Bersih NL Chinese New Year makan-makan 2016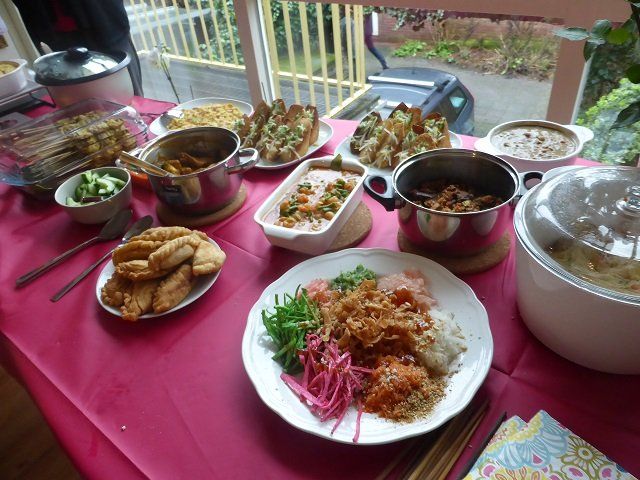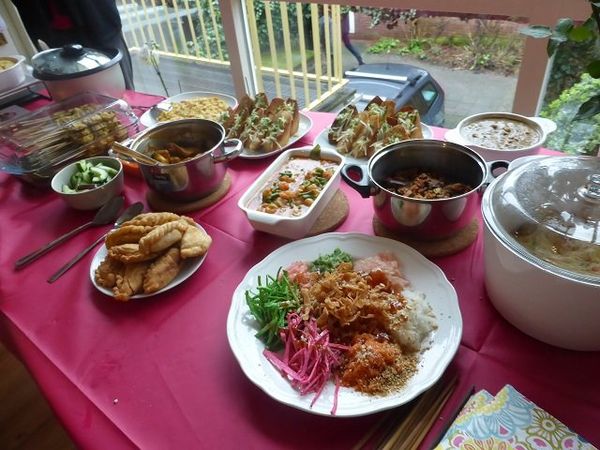 Bersih NL organized another gathering on 21 February 2016 in Utrecht to celebrate Chinese New Year. We were also privileged to have Global Bersih visitors who flew in from Geneva: Mr Bala Chelliah and his wife, Sharnti. The event was attended by 18 members, guests and friends of Bersih NL.
It was a potluck lunch and in true Malaysian spirit, everyone brought delicious home-cooked food and desserts to share, ranging from yu sang to apom balik. It was truly a feast of Malaysian delicacies and makan – something close to every Malaysian's heart, especially those living overseas who miss such food.
Amidst the amiable atmosphere and fellowship, everyone got to know one another and caught up with events and developments in Malaysia and what Bersih 2.0 is currently doing.
After dessert, Bala gave a short briefing on Global Bersih's (GB) objectives and touched on Bersih NL's own objectives which link us to the wider GB community. Basically, GB's main objectives are to carry out outreach work with the Malaysian diaspora spread across the globe and international advocacy work. GB's strategic location in Geneva is ideal for advocacy and lobbying with the UN High Commission for Human Rights and other international human rights organizations and NGOs based there, and to bring attention to political, social and economic issues in Malaysia and human rights violations. Bala emphasized that similar advocacy work is being carried by GB supporters in London, Paris, Washington, Sydney and New York and his hope is that each Bersih country organization will undertake similar advocacy work with the respective country's Foreign Office/Ministry and international organizations based there. For example, Bersih NL can explore what advocacy work is possible with the International Human Rights Court based in The Hague or visit the Dutch Foreign Minsitry to explore what support they can provide for protecting human rights and advancing democratic practices in evolving democracies such as Malaysia.
In addition to his GB Secretary role, Bala carries out the above-mentioned activities in Geneva by working closely with SUARAM and Aliran and also acts as their Geneva representative to the UN High Commission for Human Rights.
Bala encouraged all overseas Malaysians to spread the word on Global Bersih's goals and activities and connect with all overseas Malaysians and get them to contribute in any way they can (e.g. IT, media, design, photography, publicity, financial, etc.).
Bala's concluding comment was that we overseas Malaysians can play an important role to suppport the movement for change in Malaysia, and that this will be achieved if each of us passionately believes in the Cause. But as a minimum, he implored all of us (and all Malaysians) to register to vote and suggested that we start putting some money aside to fly back to vote when the next elections are called.
An important milestone is the registration of Bersih Network Netherlands as an official stichting (NGO) in the Netherlands. We would like to encourage all like-minded Malaysians in the Netherlands to sign up as members to support our local Bersih activities. Here are some of the activities and programmes in the pipeline:
Social activities to connect with like-minded Malaysians in the Netherlands
Talks/seminars on democracy in Malaysia to create awareness and raise consciousness
Sale of Bersih NL T-shirts to raise funds to cover expenses incurred
Encourage all overseas Malaysians to register as voters
Address all questions and concerns overseas Malaysians have about the Malaysian voting system and how to register as postal voters
Discussions with local human rights organizations and government agencies on human rights issues faced by Malaysians in Malaysia
Inquire about dates and locations where people can register as voters and communicate the information through available channels
If you have not signed up as a member of Bersih NL, we would like to connect with you. Do come forward and send us your contact details (contact@bersih.nl). Small steps make a big difference!